... enables the easy conversion of your
Delphi
or
Lazarus
applications into fully functional
web applications
with just one click.
The
compiler
takes the
source code
and GUI settings and generates a
web application
from it that looks and functions exactly like the original program.
The result is exclusively
HTML, CSS
, and
Javascript
code.
This page was also created using xProject

F9

.
Web / WebSocket / DB Connection Server
... gives you unrestricted control over your database connection, without needing to write a single line of code on the backend.
A wide range of databases is supported, including
Oracle, MsSQL, Postgres, MySQL, (Interbase/Firebase), ODBC, and more
.
Your focus remains on the creative development of your applications, while xProject
Server
takes care of the work in the background.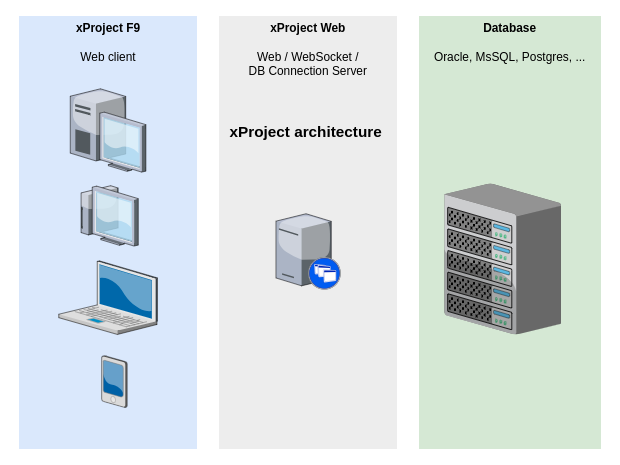 xProject F9
Standard

all components
Licencia individual € 399,-
Licencia de empresa € 2.490,-
Datenbank

all components
+
Database
Connection
+
xProject Server
Licencia individual € 599,-
Licencia de empresa € 4.490,-
Feature matrix
Enhance your efficiency with xProject

F9
the ideal software solution for
web development
using
Delphi, Lazarus, or Visual Studio Code
.
Choose between our standard version or
xProject F9 with database integration
. Opt for the latter, and you'll receive
complimentary
access to
xProject Web
,
your gateway to diverse databases.
The pre-sale period ends on December 31, 2023